Sound Message, LLC can make you sound great! It's really as simple as that with our live sound mixing and design services. We provide sound mixing services for live events as well as professional audio design and consultation.
We can run sound for a variety of live events, including concerts, church worship services, and theatrical performances. We can even help setup your equipment in advance and tear down afterwards.
Sound Message, LLC can also help if you're designing a live sound system for your venue, or if you're writing your audio cues for theatre. We've designed hundreds of PA systems for everyone from garage bands to churches and performance venues, and we've done theatrical sound design for several shows as well.
Most importantly, we understand the importance of sounding great, and we've got the musical ears to turn the technical process of live audio production into a work of art. So, if you're planning a special live event and need a sound man, or if you need a full service audio consultant, then trust Sound Message, LLC to provide you with excellent service and a great sounding performance every time.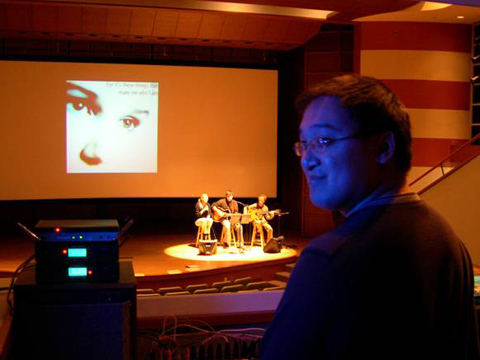 SOUND MESSAGE LIVE AUDIO PRODUCTION CLIENTS HAVE INCLUDED: (Pages open in new windows)
SHAWN SMITH
(Independent Musician)